­Exciting new expansion plans for Knox Private Hospital!
Work has begun on a major expansion of Knox Private Hospital that will help us continue to meet the growing demand for ­quality health care across Melbourne's east.
The expansion plans follow three recent major developments that include a new Emergency Department, expanded cardiac services with an additional Cardiac Catheterisation Laboratory, and a new dedicated Day Procedure Centre.
The new multi-million dollar expansion will help Knox Private deliver an expanded and enhanced service offering for our patients, and will further cement our reputation as a world-class healthcare facility.
The 2022- 2023 Expansion Project includes:
60 new beds, with predominantly single room accommodation;
An upgraded Intensive Care and Coronary Care Units, with additional bed capacity (14 and 17 respectively);
A 16 chair renal dialysis service;
An upgraded non-invasive/ diagnostic Cardiology unit;
Consolidation of Pharmacy, Admissions and Café, conveniently closer to ward areas;
9 additional specialist consulting rooms.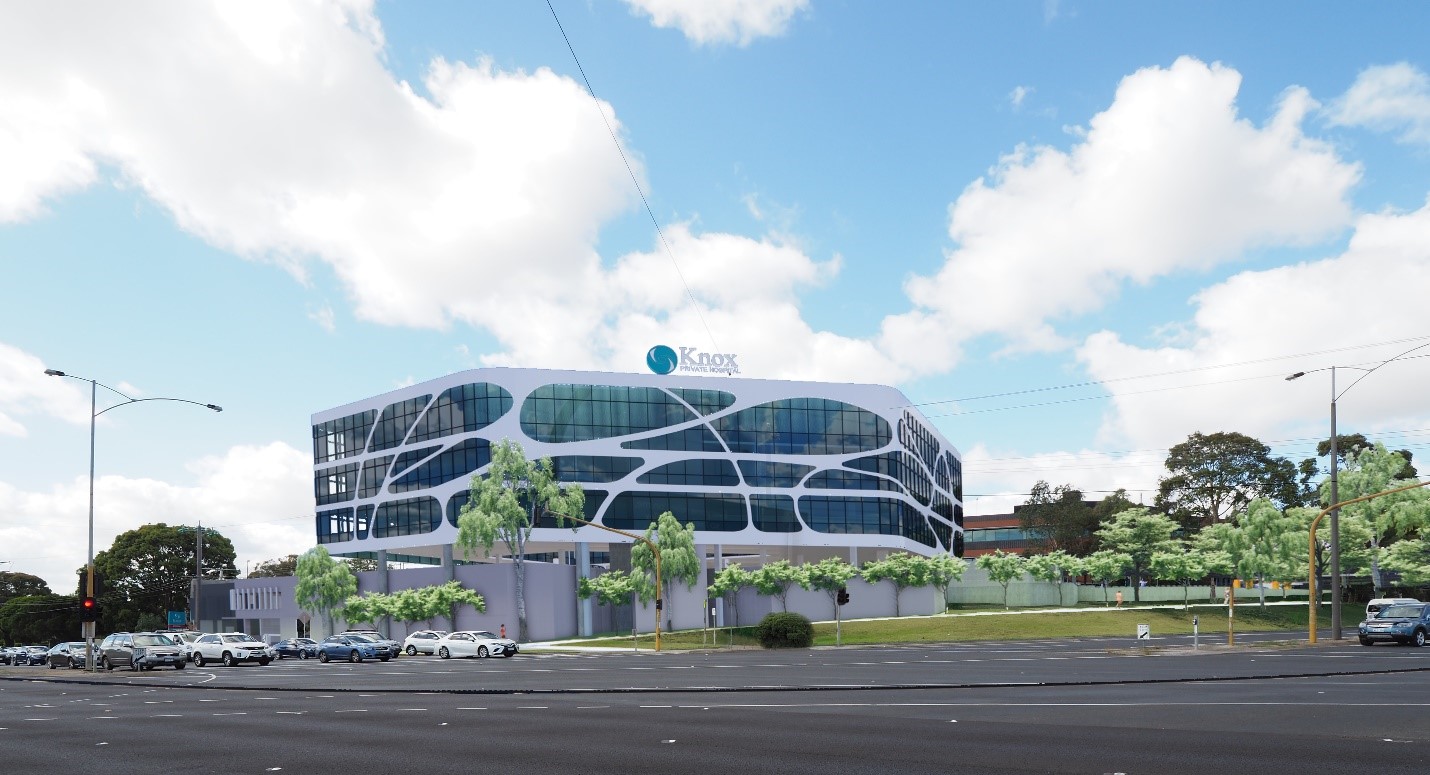 Artist Impression – Corner of Boronia Roads and Mountain Highway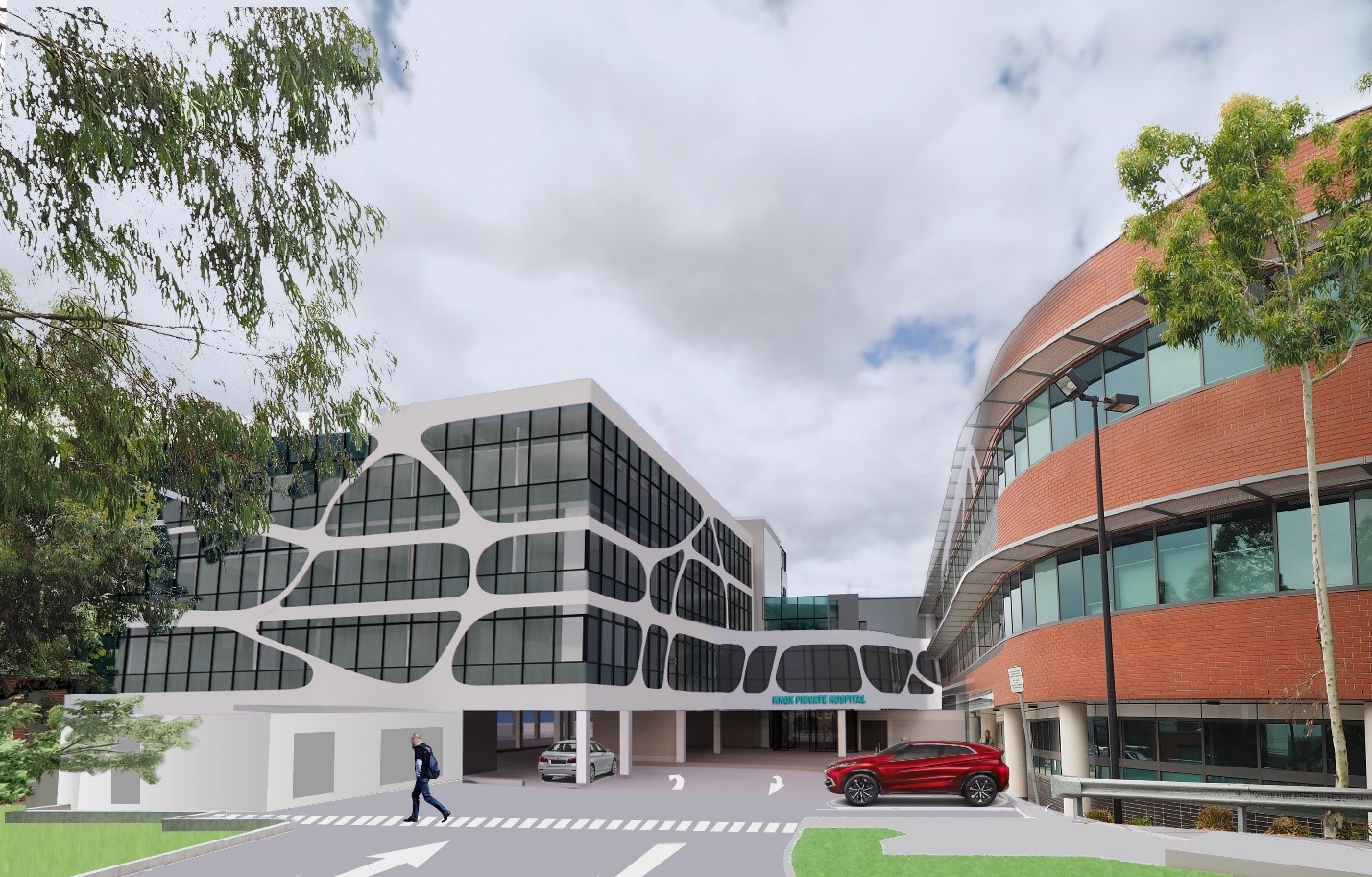 Artist Impression – Main entrance
Keeping the community informed
As works progress we are committed to keeping the community informed, and will do everything we can to minimise any disruption.
Car parking will be affected during the redevelopment. We have taken provisions to minimize disruption by including providing 150 off-site car-parking spaces for staff during this period.
Car-parking arrangements, patient pick up and drop off zones have changed.
Parking arrangements
There will be some impact on the number of hospital parking spaces available, with the ground level North car park, adjacent to the main entrance, being unavailable for the duration of the project.
The Boronia Road entrance is available for patients, visitors and doctors accessing the Main hospital reception, wards and consulting rooms.
The Mountain Hwy entrance remains available for use for the South Car Park only, i.e. ED, Radiology, Knox Orthopaedic Group (KOG) and Mr. John Crock's rooms.
Patient pick up and drop off zones:
Pick up and Drop off zones as well as DVA parking have been re-located to car parking levels B1 and B2 via the Boronia Road car park entrance.
We welcome your feedback via email to feedback.knox@healthscope.com.au or by calling 03 9210 7000.
Opportunity Knox!
Doctors' Expression of Interest
Due to an expected growing demand, surgeons wishing to secure operating time or have a discussion regarding on-site consulting opportunities at Knox Private are encouraged to submit an Expression of interest.
Careers
Are you a Nursing, Allied Health staff and Health professional looking for a career at Knox Private Hospital? Let us know you are interested by leaving your details or applying for a position using the Careers or Graduate nurse tabs on the home page of this website.
More information
Follow us on Facebook or Instagram for regular updates, or email us on knox.communication@healthscope.com.au.

Over the last 10 years, we have completed three major redevelopments, with the last having enhanced our 24 hour emergency services with a newly built Emergency Department, cardiac services, with an additional Catheter Laboratory and having increased our hospital's surgical capacity with a dedicated Day Procedure Centre.
Surgical capabilities have enhanced the areas of Cardiology, Neurosurgery, Urology, Gynaecology and Colorectal surgery and more. The latest in surgical technology is available to our doctors so that they can deliver the best possible patient outcomes. We develop facilities and services with patient care, safety and comfort in mind.
In 2019-2020 Knox Private Hospital further expanded facilities and continued to offer state of the art surgical technology to our community.
Updates include:
Facilities
Two Cardiac Catheterisation Laboratories for Interventional procedures – one newly built and one refit, both complete September 2020
Emergency Department – Newly built and expanded Emergency Department, complete and open in March 2020
Day Procedure Centre for Day surgeries and Robotic procedures – New centre built and complete early 2020
Technology

Brainlab surgical navigation system – enabling greater precision during cranial and spinal neurosurgical procedures
Davinci Xi robot and Trumpf surgical table – the most advanced generation of robots and integrated table motion during Urological, Gynaecological and Colorectal surgeries
TAVI (Transcatheter Aortic Valve Implantation) – for patients with Aortic Stenosis, requiring an Aortic Valve repair and cannot undergo open heart surgery